Help Hair Protein Shake Chocolate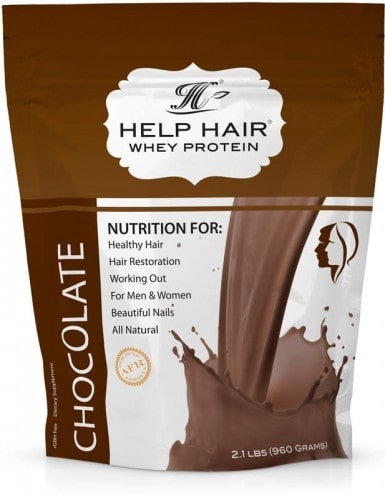 With vitamins, minerals and Chinese herbs
Free Shipping for orders over $150
Help Hair Whey Protein Shake is a tasty, food supplement made from all-natural ingredients, specially designed for men and women affected by hair loss, thinning or lifeless hair. The unique formula that goes into Help Hair Protein makes it the only product that supplies the complete nutritional needs and structural proteins required to promote healthy hair growth, improve texture and reduce shedding.
Help Hair Protein contains a high level of biotin (2.5 mg per serving), the most important ingredient for healthy hair and nails. Also containing; B vitamins to support your body under stress, iodine for healthy thyroid function (and regulates growth) and niacin which helps to open the micro-capillaries in the scalp.
Beneficial for many types of hair loss, including:
Genetic hair loss
Thinning hair due to poor nutrition
Hair loss due to high anabolic products
Post pregnancy hair loss
Post menopausal hair loss
Hair loss due to medical conditions
Alopecia areata
Minerals such as zinc and manganese which are essential for proper cell function and a special "proprietary blend" of amino acids which are the building blocks of collagen, elastin and keratin. Sweetened with all-natural sugars stevia and xylitol, Help Hair Protein has a low glycaemic index and does not cause hunger and provides the nutrients and protein's your body can lack.
Contains none of the following:
NO Artificial Flavors
NO Artificial Colors
NO Artificial Sweeteners
NO Xantham Gum
NO MSG
NO Wheat
NO Gluten
NO Soy
NO Sulfites
NO Eggs
NO rGBH
NO Nuts (Including peanut oil and tree nuts)
FREE of Antibiotics
FREE of Pesticides
FREE of Recombinant Bovine Growth Hormone. (rGBH)
Available in Chocolate, Berry-licious and Vanilla flavours, Help Hair Protein supplies the nutrients and structural proteins hair needs to grow strong and healthy.
Ostrzeżenie
Foreign shipping

in your European Union company PLN 80

outside the European Union PLN 90

Please contact me by phone before the payment